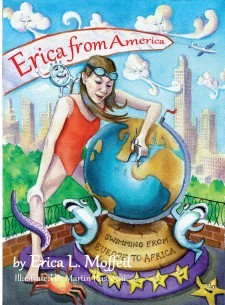 Erica Moffett, Author of "Erica From America: Swimming from Europe to Africa" will be signing books on February 18th 1-3pm at Black's Paper & Gift Shop, Wolfeboro, NH
Wolfeboro, NH, January 31, 2017 (Newswire.com) - ​​​​​​​​Marriah Publishing Announces​​ Award Winning Swimmer and Children's Book Author appearing and signing books at Black's Paper & Gift Shop, Wolfeboro, NH on Saturday, February 18th 1-3pm. Stop by the store, learn about Erica, and purchase a signed copy of the award-winning children's book!
Erica from America: Swimming from Europe to Africa, tells the story of Erica, who, as a child grew up wanting to do everything, and later decided to swim the Strait of Gibraltar. Her friends thought she was crazy but Erica was determined (even if a little nervous) and decided she was going to swim from Europe to Africa no matter what. But when she got to Spain, her plans are interrupted by the winds and another group of swimmers, who befriend her and ask her to swim with them. Ultimately, she and the other swimmers were all set to swim and they reached their goal to swim from Europe to Africa but not without a lot of activity during the swim!
"I am so happy that the book is finally published and that children are reading it! I just heard from a friend who read it to his granddaughter and he said it is now her favorite book and already the cover is worn out from reading it over and over."

Erica L. Moffett, Author
Erica's story includes her experiences with intense training and swimming after years of very little exercise, inspiring others to pursue sports at any age. Erica's outlook on life, her love of swimming and "can-do" attitude are apparent in her writing. Erica grew up swimming in Lake Winnipesaukee and is excited to come back to Wolfeboro to share her book and story with the town.
About Erica Moffett:
Erica Moffett is a freelance writer when she is not working at her day job as the Managing Director & Associate Director of Equity Research at Oppenheimer or swimming in the pools, rivers, or oceans.
"Erica from America: Swimming from Europe to Africa" is her first children's book and it is based on her own swim from Europe to Africa, which was one of her first big open water swims. Subsequently she went on to swim the English Channel, the Manhattan Island Marathon Swim, and the Catalina Channel, along with a few others (though those are the big ones). More Erica from America books are planned, though they may involve some other adventure other than swimming.
For all the latest updates, follow Erica on Twitter, @ericalmoffett; on Facebook at ericafromamerica.com (look for ericafromamericabook); or on Instagram (ericalmoffett).
About Black's Paper & Gift Shop: The store was started in 1860 as The Paper Store. It was in what is now the Mountain Tops Building until it moved to its present location in 1958. That was when the store name changed to Black's Paper Store and Gift Shop. David Hemenway purchased the store in 1983. Directions
Black's Paper & Gift Shop:
8 South Main Street
P.O. Box 330
Wolfeboro, NH 03894
603.569.4444
Media Contact:
Colleen Kelly
Jeanne Murphy Public Relations​
​Colleen@JeanneMurphyPR.com​
908-752-5179
Source: Marriah Media
Share: