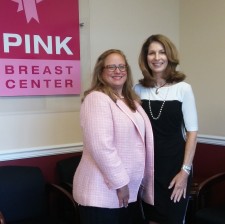 Clinton, NJ, August 3, 2017 (Newswire.com) - BW NICE is pleased to announce PINK Breast Center headquartered in Paterson, NJ, has signed on as a Corporate Sponsor. "I'm thrilled to have Dr. Lisa Sheppard and PINK Breast Center support our mission and I look forward to a mutually rewarding partnership", says Diane Simovich, Founder of BW NICE. "Dr. Sheppard is passionate about women supporting women and giving back to the community."
BW NICE is a unique networking organization established in 2009 in central New Jersey and is rapidly expanding throughout the state. BW NICE members and attendees meet monthly for breakfast meetings and other events. Each chapter provides critical support to women and families in shelters or transition through donation items as well as an annual gala fundraiser, The Red Shoe™ Luncheon & Fashion Show.
"We are happy to be a part of BW NICE and I'm looking forward to helping the organization grow."

Dr. Lisa Sheppard, Board Certified Radiologist and Medical Director for PINK Breast Center
BW NICE, Business Women Networking Involving Charity & Education, provides women at all stages of business and personal life with support, education, and resources. We see value in the balance of business networking and charitable outreach. We bring women together to gain meaningful business connections, learn new ways to succeed, and foster an empowering environment. Each BW NICE chapter raises funds and awareness supporting a local organization in the fight against domestic violence.
Contact:
​Diane Simovich
(908) 894-8219
​info@bwnice.org
#####
Source: www.MarriahMedia.com
Share: