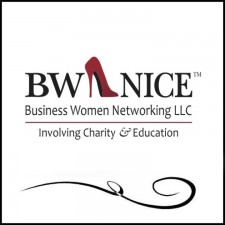 Professional Women's Group Opens to Middlesex County August 17
Clinton, NJ, August 2, 2017 (Newswire.com) - Business Women Networking, LLC is pleased to announce the launch of their newest chapter in Middlesex County. The first meeting is scheduled for Thursday, August 17, 2017, at the Crowne Plaza in Edison, NJ. Meeting time is 9:00 – 10:30 AM with registration and open networking from 8:30 – 9:00 AM.
Carol Friedman, Business Marketing Specialist at Star 99.1FM, will serve as the Executive Leadership Committee President for the Middlesex County Chapter. Leadership opportunities are currently available and inquiries should be directed to Carol Friedman at bwnicemiddlesex@gmail.com or (732) 598-2971.
"I'm thrilled to see our continued expansion in New Jersey with the launch of the Middlesex County Chapter. Chapter expansion allows us to reach more professional women in the state and is a tremendous step in spreading the mission of BW NICE."

Diane Simovich , Founder of BW NICE
The Middlesex County Chapter will partner with Women Aware, a non-profit agency whose mission is to end domestic violence in the lives of women, children, and men, and to change societal attitudes and institutions that promote and condone violence through public policy, advocacy, education, and programs and services that promote lives free of abuse.
Starting in September, the Middlesex County chapter will continue to meet on the third Wednesday of the month. For more information about meeting details go to www.bwnice.org or www.facebook.com/BWNiCEMiddlesexCounty.
BW NICE provides women at all stages of business and personal life with support, education, and resources. We see value in the balance of business networking and charitable outreach. We bring women together to gain meaningful business connections, learn new ways to succeed, and foster an empowering environment. Each BW NICE chapter raises funds and awareness by supporting a local organization in the fight against domestic violence.
Contact:
​Diane Simovich​​
​(908) 894-8219
​info@bwnice.org
#####
Source: www.MarriahMedia.com
Share: