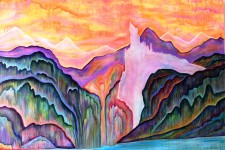 News
•
updated: Oct 23, 2017
Art Psychotherapist, Painter, Poet and Maker of Many Things, Moriah M. Mylod Exhibits Her Work at the The Center for Great Expectation's New Outpatient Building in New Brunswick on Friday, October 27th.
New Brunswick, NJ, October 23, 2017 (Newswire.com) - The Center for Great Expectations, (CGE) is pleased to announce that highly acclaimed, Art Psychotherapist, and CGE team member, Moriah M. Mylod will be displaying her artwork at the Outpatient Facility Open House this Friday, October 27th, 2017 from 11:00 am - 4:00 pm.
SAMHSA's Substance Abuse Treatment: Group Therapy guide describes art therapy as a type of expressive group therapy that can help people express their thoughts and feelings that they may not be able to say with words. This therapy is especially helpful for people who have underlying psychological issues related to their addiction, such as a history of abuse. Since creating art is often a nonverbal process, and expands the ways a person can convey ideas and emotions, art therapy provides an opportunity to explore, understand, and resolve issues in a person's life that he may not feel comfortable talking about in a regular conversation.
The Center for Great Expectations (CGE) is one of a handful of programs in the country that specializes in gender-specific treatment in an outpatient setting for women and men with substance use and/or co-occurring disorders with a strong emphasis on trauma-informed care. In addition to group and individual therapy, CGE provides psychiatric evaluations and follow-up, medication management, family services, parenting education, relapse prevention skills and HIV testing.
"It is an honor to share my personal artwork that reflects my spiritual practice, inner world, and self-care applications as an Artist, Art Therapist and Being in the world. In the art-making process I become more self-aware through positive self-expression, personal growth and healing which in turns allows a better understanding of myself and those in my life including those whom I serve and counsel," shares Moriah M. Mylod, MAAT, Center for Great Expectations.
Join Us! Council member Rebecca Escobar will be on-location and the facility is located in Monument Square, at 303 George Street, Suite # 104, New Brunswick, New Jersey. Light fare will be served.
The CGE Open House is intended for those providing referral services for Outpatient Substance Abuse Treatment, from organizations such as: Probation, Drug Court, ISP, DCP&P, as well as Primary Care Physicians, Clinicians, Behavioral Health Specialists, and for local and regional press. To register for the free open house event, click here.
About Moriah M. Mylod passionately pursued a Master of Arts in Art Therapy from Cedar Crest College in May 2016 and graduated from Cedar Crest College in 2013 with a B.A. in Art Therapy and a Minor in Art History-- where she was a recipient for the Howard Agar Memorial Prize for demonstration of significant ability in the studio arts. Today she continues to stay active in the studio arts where she primarily explores painting and other art materials as she grows as an artist and art therapist at her home studio, Birds in the Attics in Stewartville, New Jersey.
About The Center For Great Expectations: The Center for Great Expectations (CGE) is a premier provider of trauma-informed services delivered to clients from throughout New Jersey. The Continuum of Care includes residential treatment, outpatient treatment (men, women & adolescent), a licensed child development center, supportive housing for homeless, pregnant or parenting, adult women and adolescents, and their children to overcome and break the destructive generational cycle of trauma, abuse, homelessness and addiction.
For more information: www.cge-nj.org
Media Contact: Caroline Campbell: ccampbell@cge-nj.org
Share: