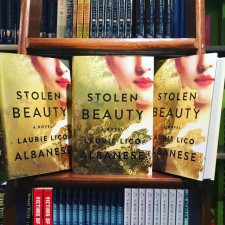 Sunday, February 19, 1-3 pm: Reading and signing at Clinton Bookshop 12 Main St, Clinton, NJ 08809
Clinton, NJ, February 18, 2017 (Newswire.com) - ​​Author Laurie Albanese will be reading and signing her highly acclaimed novel, Stolen Beauty this Sunday at the Clinton Bookshop in Clinton, New Jersey. Stolen Beauty is the story of two amazing Austrian women-Adele Bloch-Bauer and Maria Altmann-whose lives are bound by love and war, and united by one of Gustav Klimt's most famous paintings. It's a historical novel set in glittering turn-of-the-century Vienna and in the devastation of World Wars I and II. It's the story of women who triumph over adversity, and show courage in the face of seemingly impossible obstacles. It's an affirmation of goodness and beauty winning over evil, which feels more appropriate than ever right now.​
ABOUT THE NOVEL:
In the dazzling glitter of 1903 Vienna, Adele Bloch-Bauer-young, beautiful, brilliant, and Jewish-meets painter Gustav Klimt. Wealthy in everything but freedom, Adele embraces Klimt's renegade genius as the two awaken to the erotic possibilities on the canvas and beyond. Though they enjoy a life where sex and art are just beginning to break through the façade of conventional society, the city is also exhibiting a disturbing increase in anti-Semitism, as political hatred foments in the shadows of Adele's coffee house afternoons and cultural salons.
Nearly forty years later, Adele's niece Maria Altmann is a newlywed when the Nazis invade Austria-and overnight, her beloved Vienna becomes a war zone. When her husband is arrested and her family is forced out of their home, Maria must summon the courage and resilience that is her aunt's legacy if she is to survive and keep her family-and their history-alive.
Will Maria and her family escape the Nazis' grip? And what will become of the paintings that her aunt nearly sacrificed everything for?
ABOUT THE AUTHOR:
Laurie Lico Albanese has published fiction, poetry, journalism, travel writing, creative nonfiction, and memoir. Her books include Blue Suburbia: Almost a Memoir, Lynelle by the Sea, and The Miracles of Prato, co-written with art historian Laura Morowitz. Laurie is married to a publishing executive and is the mother of two children. To learn more visit her at www.LaurieLicoAlbanese.com
The Clinton Book Shop is a full service independently owned and operated book shop, located in the beautiful town of Clinton, NJ. The Clinton Book Shop is open 7-days a week and has been serving the community for nearly 40-years.

Source: Simon and Schuster
Share: