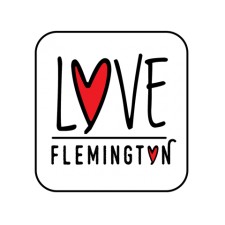 Flemington, New Jersey, launches a town-wide campaign to celebrate, share and spread the love.
FLEMINGTON, N.J., February 6, 2018 (Newswire.com) - ​​Flemington Community Partnership (FCP) announced the roll-out of a month-long multi-media, action-packed and prize-rich campaign to celebrate to engage the community and visitors in a "LOVE Flemington" campaign — just in time for Valentine's Day.
Over 30 restaurants and retailers represented by the FCP are offering over 100 prizes to those who visit their businesses and express what they love about their cool Americana town, its people, and one-of-a-kind businesses.
February is a wonderful time to celebrate what we love about our town, our businesses and our fellow residents. LOVE Flemington provides many fun ways to engage residents, visitors, and businesses of all ages and backgrounds around one central theme that ties us all together: Love.

Ann Meredith, Executive Director, Flemington Community Partnership
At the heart of this town-wide lovefest are several ways residents and visitors can express their love for their town and its businesses: with photos and messages shared on social media channels using the hashtag #loveflemington; by writing "love notes" at participating businesses; by purchasing special LOVE Flemington items at participating stores; and by sharing sentiments on the six-foot Valentine that is currently on display at the Flemington Public Library.
Those who show their love with their words, photos, and purchases will be eligible to win over 100 love-themed prizes like a: "Love Your Valentine Package" — a five-course chef tasting menu at Matt's Red Rooster and overnight at Main Street Manor Bed & Breakfast and a "Love Your Friends Package" — a family-style luncheon feast for six at Blue Fish Grill and Factory Fuel. There are Love Your Family and Love your Pet packages, dozens of new limited edition LOVE Flemington swag items and, for the Willy Wonka and the Chocolate Factory fans, Flemington's own version of the Golden Ticket. While supplies last, customers who purchase products that are part of the LOVE Flemington campaign will receive a heart-shaped LOVE Flemington lollipop — many of which will have stickers that, when peeled, will announce instant prize winners.
The contest portion of the LOVE Flemington campaign runs through the end of February. Winners will be announced in the second week of March on the Flemington Community Partnership's Facebook page and on exploreflemington.com. As for the LOVE campaign? "The business community will never stop celebrating the love we have for our customers, visitors, residents and our town," said Ann Meredith.
Flemington, Hunterdon County's Seat, offers hundreds of unique antique shops, boutiques, restaurants, and points of interest. It is the home of the historic Stangl Factory which houses an art gallery, pottery studio, a weekly farmer's market, and live music and arts events. In addition, Stangl Factory is home to Blue Fish Grill and Factory Fuel Coffee House, a unique community hub which showcases the original Stangl pottery kilns where coffee lovers can sip on latte inside a kiln.
Flemington boasts the historic Black River & Western Railroad which delights children and train enthusiasts alike, and Lone Eagle Brewery which offers their award-winning brews on tap. On Main Street, the historic Courthouse, built in 1828, houses concerts and movies. Across the street, the Flemington DIY (Do it Yourself) houses art exhibits, concerts, classes, and workshops. Teaberry's Tea Room is an authentic English Tea room housed in a lovingly restored Victorian mansion and the Main Street Manor Bed and Breakfast is an award-winning B&B recognized as one of the top Bed and Breakfasts in New Jersey. Some of the best destination restaurants in New Jersey can be found in Flemington: Matt's Red Rooster, 55 Main, Blue Fish Grill and Grateful Bites. Unique independently owned retailers include Barkley's Gourmet Marketplace, Sage Boutique, Addicted Chic, Attachments Jewelry & Accessories, and 39 Mine Boutique.
About Flemington Community Partnership:
The Flemington Community Partnership is a non-profit corporation that is dedicated to sustaining a thriving business community for all to enjoy. For more information visit www.exploreflemington.com.
Media Contact:
Jeanne Murphy
Jeanne@MarriahMedia.com
908-752-5179
​All photos courtesy of Adam Swanson
Source: Flemington Community Partnership
Share: