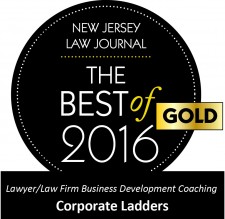 Corporate Ladders recognized with Gold Award as the Best Legal Business Development Coaching Firm in the state by the New Jersey Law Journal!
Allendale, NJ, December 20, 2016 (Newswire.com) - ​​​​​​​​​​​​​​​​​​Corporate Ladders earns top award from prestigious New Jersey Law Journal: Gold Award for "Best Lawyer/Law Firm Business Development Coaching" in New Jersey.
Each year the New Jersey Law Journal polls its readership to identify the best service providers in a variety of categories. The results are tabulated based on voting by the readers of the New Jersey Law Journal and the legal community. Corporate Ladders was selected as the best legal business development coaching firm in the state.
We had the pleasure of working with Corporate Ladders on a number of Archer projects, working with attorneys of various experience levels, ranging from practice leaders to senior associates. The advice from Bill Taylor was detailed and practical, not vague generalizations. Best of all, Bill delivered his message in a way that made all feel comfortable in participating in the dialogue, and his individual follow-up was targeted and not one-size fits all.

Stacey J. Sinclair, Esquire , Archer & Greiner, P.C.
"We are both humbled and delighted to be named the Best Firm for legal business development in New Jersey. In only our second year on the ballot, we have jumped from Bronze to Gold! From the start, we have always believed that most attorneys had the potential to be better business developers; they just needed the right coach and mentor to help uncover and leverage their strengths. Our programs have been custom developed specifically for attorneys, using tools and techniques that really work. Using our unique combination of workshops and coaching methods, many of our attorney clients have experienced direct tangible growth in their books of business, with some achieving substantial results! Clients choose Corporate Ladders because we know their business and have helped them develop a strong legal practice. We thank our clients for this recognition," says Bill Taylor, CEO of Corporate Ladders.
"Several years ago we retained Corporate Ladders to provide Business Development/Sales Training to our attorneys in Porzio Bromberg & Newman and our Regulatory Professionals in Porzio Life Sciences. Bill Taylor and Rich Arends provided an excellent training program focused on the sale of professional services. The sales training provided by Corporate Ladders followed by targeted training in presentations and public speaking ... has helped to establish a great foundation for our Business Development program. As Chairman of our firm's Business Development Committee, I have seen a significant increase in the number of our attorneys with million dollar books of business. Our focus on sales and public speaking training has been a key factor in our business development success," adds John Oroho, Principal of Porzio, Bromberg & Newman.
About Corporate Ladders:
Corporate Ladders is a business development consulting and coaching firm with over 30 years of experience working with professional services firms of all sizes and specialties, "helping them get their business to the top." From recommending problem-specific solutions and business development strategies to coaching, training, and developing the talents of your professionals, our dynamic senior talent, visionary foresight and experience gives our clients an edge up over their competition.
To learn more about Corporate Ladders visit us at: www.corporateladders.com.
About New Jersey Law Journal:
Published since 1878, the New Jersey Law Journal is the indispensable legal authority for a state with the fifth largest attorney population in the country. This must-read weekly presents a complete, official source for all state and federal court notices. It also provides up-to-the-minute digests of all relevant court decisions, published and unpublished, along with lively, much-talked-about journalism by award- winning reporters. Each issue features "In Practice," articles by contributing experts on legal developments, as well as editorials by an Editorial Board that is a who's who of bar leaders. Learn More About New Jersey Law Journal
View Corporate Ladders Award in NJ Law Journal Page 34 Here.
Media Contact:
Jeanne Murphy Public Relations
Jeanne@JeanneMurphyPR.com
908-752-5179
Source: Corporate Ladders
Share: