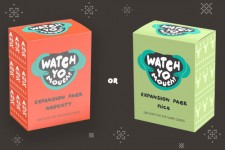 Pre-Orders Are Now Being Taken on the "Watch Yo Mouth" Website for Naughty-Nice Expansion Packs
Englishtown, NJ, November 29, 2016 (Newswire.com) - Game makers for the number one most popular game for adults this holiday season, "Watch Yo Mouth™", are announcing the release of their Naughty - Nice Expansion Packs. Pre-orders can be made on the website and orders received before December 16th will be delivered in time for Christmas.
These sought-after Naughty and Nice Holiday Expansion Packs include cards that make up over 2,500 different phrases and are guaranteed to have players everywhere cracking up, and drooling on themselves.
"The Naughty-Nice Holiday Expansion Packs are the perfect gift for lovers of our best-selling game!"

Joe Caiola, Founder and CEO
About Watch Yo Mouth™
"Watch Yo Mouth™" is the original mouthpiece card game founded in early 2016. The game is sweeping the Internet with worldwide enthusiasm. "Watch Yo Mouth™" is committed to philanthropic causes and the company has been featured on numerous TV programs, YouTube channels and social media outlets.
Media Contact:
Colleen Kelly
Jeanne Murphy Public Relations
Colleen@JeanneMurphyPR.com
Source: Watch Yo Mouth
Share: