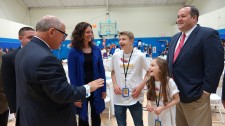 Children and their families came out for an evening of music, fun and playing the new, award-winning innovative game, Launch!™ One lucky winner went home with a Macbook Air provided by Fizzee Labs™ and successful entrepreneur, Steve Kalafer gave lifetime opportunities to a couple of lucky kids!
Flemington, NJ, June 15, 2017 (Newswire.com) - Friday, May 12, 2017 was the kickoff to Productive Play's™ First Launch!™ event. The event was attended by students from the 4th grade through 8th grade and their parents. The evening included music, fun and gameplay of the innovative and award-winning game "Launch!™," created by young local kid entrepreneurs Joey Hudicka and Heidi Hudicka. In 2016, Joey and Heidi won the Amazing Kids in Business Award from the Hunterdon County Chamber of Commerce.
Carla Orlando won a brand new MacBook Air, donated by Fizzee Labs™ for her business concept, Invasive Intervention Avoidal™, a "...technology to help stop invasive species so that food changes won't be interfered with." Carla wants to create technology "...so that certain animals don't go extinct from invasive species eating their food sources."
"We've received so many gracious messages from the many families that participated in the LAUNCH!™ Party. It's so wonderful to hear these children and parents sharing our excitement and see them discover the powerful potential within their very own creative ideas. We are amped to help them begin their bigger future today!"

Joe Hudicka, COO, Productive Play™, a brand of Fizzee Labs™
Keynote Address Speaker, Steve Kalafer was so inspired by the event and the talent that he gave The Somerville School of Rock House Band, who are high school students, an opportunity to play at his stadium, The Somerset Patriots™ Ballpark and he also gave one lucky boy and his friends a gift to come to Yankee Stadium™ and meet some of their favorite players.
Mr. Kalafer's message to the kids was how important the Launch!™ game lessons are and to work hard, make a profit and give back to the community. It was truly inspiring.
Steve Kalafer, Chairman of Flemington Car and Truck Country and The Somerset Patriots; Mayor Janice Kovach of the Town of Clinton, New Jersey; Dr. Donald Sebastian, President of New Jersey Innovations Institute iLabs at NJIT; Tiffany Lucey, Supervisor of Education Technology at the Toms River High School South; Bruce Black, President of the Hunterdon County YMCA; Joseph Hudicka, President of Fizzee Labs™ and Chris Phelan, President of the Hunterdon County Chamber of Commerce provided presentations on the importance of innovation and creativity.
This event was sponsored by The YMCA of Hunterdon County, The Hunterdon County Chamber Foundation, Flemington Car and Truck Company and Fizzee Labs™.
Source: Jeanne Murphy PR
Share: