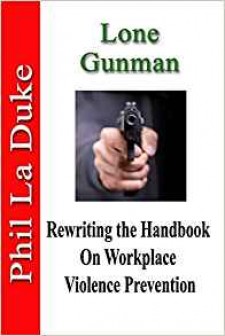 Does Anyone Care to CORRECT Workplace Violence By Learning the Facts and Changing the Process?
DETROIT, May 7, 2019 (Newswire.com) - ​​​​​​​​​​​​​​​​​​​​​Marriah Publishing announces the launch of Phil La Duke's new book, Lone Gunman: Rewriting the Handbook On Workplace Violence Prevention. Phil is an internationally acclaimed safety influencer and advocate, challenging today's experts on violence in the workplace.
According to the U.S. Bureau of Labor Statistics, workplace homicides account for 10% of all workplace fatalities, and yet, workplace homicide is the leading cause of death for women who die in the workplace. Forty-eight percent of women murdered in the workplace will die at the hands of a family member or domestic partner, compared to only 2% for men. But does anyone really care?
"Several decades ago a high school friend of mine was brutally murdered by her estranged husband -- fast-forward four and a half years and he's out of prison. He has a job. I imagine he has a wife or girlfriend who is oblivious to his horrific background. Maybe you know his new wife. Maybe your daughter IS his new wife.
Bring up the subject of domestic violence and you will be met by cowardice; people will squirm and try desperately to change the subject. Domestic violence is ugly, sickening and when it spills over into the workplace, women find themselves completely unprotected. Researching and writing this book was unsettling; domestic violence will never be something we enjoy thinking or talking about, but until we address it, it will continue and it will continue spilling over into the workplace.
Unlike many problems of this magnitude, it's easy to give up thinking that there is nothing a single person can do about it, but there is. Yes, there are mentally unstable people who want to kill their boss over some imagined grievance, and this book deals with that, but what most books on workplace violence prevention ignore is the ugly truth that homicide is the leading cause of workplace death for women, and 48% of these women will be murdered by family members or domestic partners, as compared to just 2% for men. We don't want to talk about it or read about it, but saying we care and doing nothing is just ... well, doing nothing," shares the author.
The purpose of this book is two-fold: to prompt companies to dust off their employee handbooks and update the policies to reflect today's modern climate and to help individuals to understand the issue of workplace violence and to predict, prevent and protect themselves against it.
"Phil La Duke's book is beyond compelling. His straightforward and sound approach to workplace violence resonates deeply with me. As Founder and President of BW NICE, a women's networking organization connected to charitable outreach and partnering with local domestic violence agencies, I am profoundly aware of the epidemic of domestic violence and the staggering impact on women. Phil provides critical information for employers to manage and create a safe environment for all employees, specifically for women who are in a vulnerable situation. It is imperative that we continue to raise the level of education and awareness surrounding this issue if we are ever going to change the statistics and end domestic violence," shares Diane Simovich, Founder and President, BW NICE.
A Message from the Publisher: Marriah Publishing is pleased to announce the launch of "The Lone Gunman," since we find this issue largely ignored and we wanted and needed it to be written by someone who is an expert and not afraid to tackle the tough topics that make people squirm. We know that one of Phil La Duke's specialties is to point out solutions, as well as problems, and to "be in your face" about the facts and solutions, which we find clearly explained in this book. Phil hits people at an emotional level so they can't throw up logical arguments to block out the truth. We share his philosophy on worker safety rule number one and that is that "no one has to die at work" and it's our mission to share his research.
About Phil La Duke:
Mr. Phil La Duke is a business consultant at a global company where he works on large-scale organizational change programs primarily in worker safety. He has 28 years of experience in the fields of Worker Safety, Organizational Development, Process Improvement, Cultural Change Implementation and Training.
Phil La Duke has over 300 published works in print and has contributed content to numerous notable magazines, including Entrepreneur, and is published on all inhabited continents. Mr. La Duke's take-no-prisoners style garnered him positions on Industrial Safety and Hygiene News (ISHN) magazine's Power 101 (a list of the world's most influential people working in worker safety) and its list of Up and Comers in Safety Thought Leadership. La Duke's style is sarcastic, caustic, in your face. He pulls no punches, which makes his writing accessible to most everyone. You don't have to be a safety nerd to enjoy his writings. More
Source: Marriah Publishing
Share: