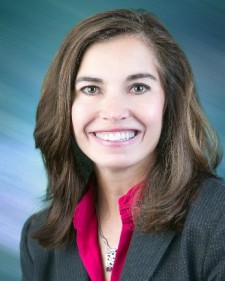 Marriah Media Announces that Laura Lampron is being honored by BW NICE, Inc., and the Sussex County Chapter as Businesswoman of the Year
NEWTON, N.J., September 26, 2017 (Newswire.com) - Marriah Media announces that Laura Lampron, Director of Marketing at Nisivoccia, LLP, an accounting and advisory services firm that has served the community since 1970, has been chosen as this year's Businesswoman of the Year recipient from BW NICE, Inc.
Laura Lampron has worked with Nisivoccia for the past seven years. She has been instrumental in connecting with non-profit organizations throughout northern New Jersey and working to build valuable connections. Working closely with the firm's non-for-profit segment, Laura began to understand the need for and willingness of people to help others. Realizing she wanted to leverage her business background to help women, she became an advisory board member of NORWESCAP Career and Life Transition Center in Flemington, New Jersey where she was able to help women gain the skills needed to re-enter the workplace. Working closely with the women of the firm, she launched the Nisivoccia LLP Connecting Women2Women Group, where women come together to "connect, communicate and collaborate" to help each other.
Laura's sustained work with non-profits and devotion to building connections throughout the community is something we are happy to celebrate.

Donna Price, BW Nice Sussex Chapter President
Ms. Lampron will be honored at the Sussex County Chapter's first Red Shoe – "Stepping Out for DASI" event on Sept. 26, 2017, at 6:00 p.m. An estimated 120 women will gather at the Lake Mohawk Country Club to enjoy networking, shopping among local vendors, music with two local groups, a silent auction and dinner. Proceeds from the event will go to BW NICE's charity partner, DASI, a Sussex County based not-for-profit agency dedicated to serving victims and survivors of domestic violence and sexual abuse.
Sponsors of the Red Shoe Sussex – Stepping Out for DASI currently include Thor Labs, Franklin Mutual Insurance, Nisivoccia LLP and Sussex Bank. To be a sponsor, register to attend, or for more information, visit www.bwnice.org or www.RedShoeSussex.com.
BW NICE provides women at all stages of business and personal life with support, education, and resources. They believe there is value in the balance of business networking and charitable outreach. They bring women together to gain meaningful business connections, learn new ways to succeed, and foster an empowering environment. Each BW NICE chapter raises funds and awareness by supporting a local organization in the fight against domestic violence.
Contact: Donna Price, 973-948-7673
BW NICE Sussex Chapter President
Email: bwnicesussex@gmail.com
Source: BW NICE, Inc.
Share: