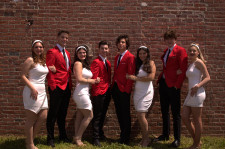 News
•
updated: May 18, 2021
Tickets are now available to purchase for The Jersey Boys Concert, which is being produced and organized by young people, raising money for The National Alliance for Mental Illness (NAMI) and to help fund improvements to the Open Air Theater.
The Jersey Boys Tribute Concert
Friday, June 25th and Saturday, June 26th 6-7:30 pm
Saturday, June 27th 3-4:30 pm.
Open-Air Theater at Washington's Crossing State Park, Mercer County, NJ
The last 15 months have been a challenge for the world and as restrictions begin to ease, three High School seniors, Emily Schneider, Fabianna Rincon and Mya Corby have found a way to produce the theater experience they have been missing and are raising money for both Mental Health awareness through (NAMI) and for the Open-Air Theater at Washington Crossing's State Park, where the event is being held, which sustained some damage from vandalism in the last year.
All three girls have been active in the theater throughout grade school and did not get the "Senior Show" that they had been dreaming of so this production of The Jersey Boys Tribute Concert is a source of great accomplishment and pride for them. This has been quite an undertaking, and they are not only producing, directing and starring in the show, but also doing all of the marketing, fundraising and gathering volunteers needed to ensure that they have an event that is entertaining for all ages, and gives back to our community.
"With this production, we wanted to give back to our community in some way. In addition to our passion for theater, we also take strong initiative in mental health advocacy. During our freshmen year, we unfortunately lost one of our friends due to suicide. She was very active in the theater community and played a role in each of our lives. We have since dedicated our work to the importance of Mental Health Awareness in our community".
Tickets for the event can be purchased here, or on the website: https://tjbconcert.square.site/. Bring the entire family for an outdoor experience filled with great music and entertainment! What a perfect way to support mental health and our amazing park system!
Share: