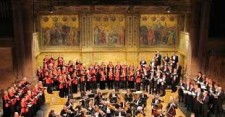 Princeton Community Partners Program presents screening on March 24, 2018
PRINCETON, N.J., March 22, 2018 (Newswire.com) - Princeton Community Television will present a premiere screening of a new film produced by Princeton Pro Musica through its Community Partners Project on Saturday, March 24, at 2 p.m. The screening will be held at Monument Hall (the former Princeton Borough Municipal Building). The screening is free and open to the public.
Princeton Pro Musica: 40 Years Strong and Still Sharing Great Music was completed through Princeton TV's Community Partners Project (CPP), which teaches documentary video and new media skills to non-profit organizations throughout Princeton and the greater Princeton area. The free program partners the non-profits with local professional filmmakers while Princeton TV provides all the instruction, technical assistance, equipment and other production services needed to complete a documentary.
Princeton Community Partners program is a wonderful platform, which brings awareness and impact to the nonprofit community through film. We are very proud of this initiative and the people involved and the films are incredible!

Colleen Kelly, Board member
The film helps celebrates Princeton Pro Musica's 40th anniversary of the Princeton-based arts organization. The film's main producers were Claudia Classon, Libby Crowley, Carolyn Landis and Jeff Winik. The project's mentor was filmmaker Ed Rodgers.
Princeton Pro Musica is a 100-voice chorus of exceptional singers committed to the highest quality of performance, partnerships with other arts organizations, encouraging the choral arts in New Jersey and maximizing the public benefit and enjoyment of all performances.
"Our film's purpose is to increase the visibility and awareness about one of New Jersey's premier arts organizations and its volunteer singers who continue to bring choral music with energy and passion to communities in New Jersey and surrounding states as they have for decades," explains Mary Trigg, executive director of Princeton Pro Musica.
"The video includes Princeton Pro Musica members sharing their personal connections to the organization," adds Ed Rodgers, the film's project mentor.
Princeton TV is a digital media center and public access channel that is located at Monument Hall. Its mission is to provide members of the public with the tools, training and means to produce their own programming.
Please contact George McCollough, executive director of Princeton Community TV, for more information.
Contact: George McCollough
Executive Director
Princeton Community TV
george.mccollough@princetontv.org
609-252-1963
www.princetontv.org
Source: Princeton Community Television
Share: