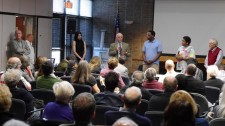 Princeton TV Partners with Local Non-profits
Princeton, NJ, March 21, 2017 (Newswire.com) - Princeton TV announces the 2017 The Community Partners Project (CPP). This initiative is designed to teach documentary video and/or new media skills to non-profit organizations throughout Princeton and the Greater Princeton Area, by partnering them with local Professional Filmmakers. CCP is free to successful applicants and Princeton TV will provide all the instruction, technical assistance, equipment, and other expenses that go into the production. Non-Profit or Charitable Organizations are encouraged to apply for the Community Partners Project. Guidelines to apply for the Community Partners Project can be found at www.princetontv.org. Application deadline is April 11, 2017
"Our goal is to help organizations get the word out about the work they do," says George McCollough, Executive Director of Princeton TV. "And teach them the skills that will help empower each organization to produce their own media."
"Our goal is to help organizations get the word out about the work they do and teach them the skills that will help empower each organization to produce their own media."

George McCollough, Executive Director, Princeton Television
The selected participants will be able to market their organizations with the final project or use the project to educate their constituents about the organization or a program of the organization. It may be used on their website, in training sessions, to educate possible funders as well the general public.
After the organizations have been selected, Princeton TV hires one or two experienced filmmakers to be facilitators for the group. Facilitators will provide instruction in such things as strategies for telling the story, using the camera and lighting equipment, editing styles, new media techniques, and much more, as they guide the production team through the entire documentary process. The projects may be used by the organization for marketing and promotion, fund raising (though not primary purpose), educational uses and/or outreach. The group's project may be about the organization, a program of the organization or an issue that their organization addresses.
When the projects are complete, Princeton TV will organize a premiere screening and helps groups plan how they will use their project. Princeton TV will also broadcast the finished project as well as post to Princeton TV's online video archive.
Princeton Community TV is a Princeton, New Jersey based Digital Media Center and Public Access Channel. Its mission is to provide the public with the tools, training and means to produce their programming. For more information visit www.princetontv.org
Contact: George McCollough
Executive Director
Princeton Community TV
609-252-1963
www.princetontv.org
Source: Princeton TV
Share: