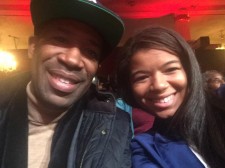 Princeton, NJ, January 17, 2017 (Newswire.com) - FUBU-TV's First Premium Digital Live Stream Pay-Per-View Event, will be Produced and Directed by 19 years old Tatianna Sims, the granddaughter of legendary Film and Television Entertainer Howard "Sandman" Sims. Sandman is best known for his work at the Apollo Theater in New York City, where he is just called "The Sandman", but also had a prominent career in film and television with roles in Harlem Nights, TAP and The Cosby Show. Many may not know that Sandman Sims was a Boxer before becoming a professional dancer and trained Artie Moore and Muhammed Ali on their footwork. Tatianna​ started Challenge Entertainment back in 2014 in the memory of her grandfather with her first film entitled The Quest: Equalizing Achievement.
The film received national attention and awarded her the Princeton Prize for Race Relations in 2015. Tatianna has also won and been nominated for the Peoples Film Festival Chance Award, the Nassau Film Festival Best of Festival award, the Future Arts Leader Award from the Paul Robeson Arts Council of Princeton, the Project FX Student Film Festival in association with Sony Classics and won the Best of Festival Award, the Jam Video Award from the Jersey Access Group, the Unity Award from the Not In Our Town Organization, and the Star Tween Community Leader Award.
Tatianna brings a unique and innovative lens to the legacy of the For Us By Us [FUBU] brand. I am excited for our partnership and the projects that are in store on FUBU TV.

J. Alexander Martin, Founder and President of FUBUTV
Tatianna is honored and excited to partner with the acclaimed J. Alexander Martin, Co-founder and Vice President of FUBU Enterprises, to bring fresh and exciting new shows and original content to FUBU TV under her Challenge Entertainment brand. The first show being a Pro/Am Live Streaming Pay-Per-View event this January 21, 2017 at 5:00pm EST.
To purchase this Pay-Per-View event visit www.fubu-tv.com. The Pro Main Event will Headline 5 Time Former World Champion Zab "Super" Judah (42-9) and the Co-Main headliner is Derrick "Take it to the Bank" Webster (21-1). The Featured event is Trenton's own Mike "Beast" Hilton. "Bridge Wars," "The Kingdom of Judah." This is Tatianna's second produced and directed Pro/Am Boxing event. Her first was back in October for the Mayor's Cup.
Today Tatianna Sims, as the founder and CEO of Challenge Entertainment, has expanded the company to include CESports, CEMedia, an Artist and Talent management company, a new magazine called Laced Up, CE Media Academy and a clothing line. She also produces a local television show titled Trenton Now on the Princeton Television Network.
Tatianna is honored to have Mr. Martin as a mentor to teach her more about the media business and help her grow in this industry. J. Alexander Martin is the founder and President of FUBUTV. J.Alexander Martin, along side partner Daymond John (Shark Tank), Carl Brown and Keith Perrin founded the urban brand FUBU which has grossed an average of $6 Billion in revenue to date. As a leader in fashion and entrepreneurship, J. Alexander Martin continues his legacy of innovation and creativity with his multiple business and film ventures and also by sharing his marketing and branding expertise. "Tatianna represents the dynamic millennial generation of storytellers"
J. Alexander Martin commends, "She brings a unique and innovative lens to the legacy of the For Us By Us [FUBU] brand. I am excited for our partnership and the projects that are in store on FUBU TV."
To learn more about Tatianna Sims visit www.challenge-entertainment.com
For Media Inquiries and Interviews:
Colleen Kelly
​Marriah Media
908-752-1179
​Eugenia Sims
732-309-5993
tsims@challenge-entertainment.com
Source: Challenge Entertainment
Share: