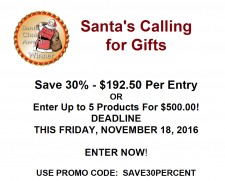 There's Still Time to Enter for a Santa Choice Award!
Ringoes, NJ, November 16, 2016 (Newswire.com) - The Santa Choice Awards program, a service created by parenting experts that reviews all types of products for families and promotes them throughout the holiday season is still open for submissions. The deadline for submissions is Friday, November 18, 2016. Enter Now
The mission of the Santa Choice Awards is to review products that are created for all members of the family, from grandparents to newborns and to promote the winners to millions of consumers in print, on television and radio, and throughout a comprehensive social media network.
Thank you Santa Choice Awards! You don't know what you have done to help my confidence and help my business grow, not just nationally but worldwide so I thank you very much for that!

Dave Felkel, Founder and Creator, Guarantee3 Basketball Trainer
Each product submitted into the Santa Choice Awards program is reviewed by two age-appropriate users and by one product expert. Products are evaluated over a period of 30 days. Each product category has its own criteria for earning a Santa Choice Award. Winners are determined based on a scoring system provided back by the reviewers, with the final approval given by the experts.
Criteria includes, but is not limited to:
-- Durability
-- Product Design & Functionality
-- Educational Value (if applicable)
-- Play Value
-- Content and Positive Underlying Messages
The Santa Choice Awards program is a division of Marriah Media, LLC, a global media firm with traditional public relations activities in addition to its distribution assets including television, radio and more than 350 Internet properties, for which all support and promote each other.
Talented People™ television will promote the Santa Choice Award Winners and reaches more than 60,000 households via Comcast Channel 30, Verizon FIOS Channel 45, online and also now on Roku. Talented People™ television also streams live online. The show airs on Sunday mornings at 11:30 am and on Tuesday evenings at 7:00pm. Talented People™ television clips are also displayed on YouTube and with full segments on Vimeo.
Talented People™ Radio and Santa Choice Radio, both of which will also promote the Santa Choice Award Winners, broadcasts live across the nation on Wednesdays from 3-5pm, EST. All show segments are archived and are available to all guests for their promotion.
Promo Code for submissions via this press release: SAVE30PERCENT
Learn More:
http://www.SantaChoiceAwards.com
Media Contact:
Jeanne Murphy, Partner
Jeanne Murphy Public Relations
908-752-5179
Source: Santa Choice Awards
Share: