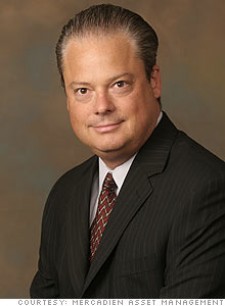 Register Today for The Free Seminar on Saturday, December 10, 2016
Monroe Township, NJ , December 1, 2016 (Newswire.com) - Take Control of Your Financial Future Seminar featuring New Jersey 101.5's Eric Scott and Ken Kamen of Mercadien Asset Management is now open for registration.
This informative event is being held on Dec. 10, 2016, at Forsgate Country Club in Monroe Township, NJ. Attendees will be treated to candid conversation with the two well-known personalities about how to make yourself the center of your financial universe.
It's so important that our financial futures are planned from our own goals, our own expectations — but more importantly, what's possible and what's probable, given your situation. And most of the financial world just concentrates on what solutions they have for you, before they even tackle the big issues that really help you understand yourself.

Ken Kamen, President, Mercadien Asset Management
This event is free to attend, with advance registration. Breakfast is included, and Ken will be giving out copies of his book, Reclaim Your Nest Egg, to the first 50 people to register.
The Details:
Take Control of Your Financial Future
​with NJ 101.5's Eric Scott and Ken Kamen​
Saturday, December 10th
10 am. – 1 p.m.
Forsgate Country Club
375 Forsgate Drive
Monroe Township, NJ 08831
Register here to attend this event.
Eric Scott is the Vice President NJ101.5 News and Digital Operations at New Jersey 101.5/Townsquare Media and anchors the morning news. He is the host of "Ask the Governor". His broadcasts reach well over one million people each week. Mr. Scott has received three Edward R. Murrow awards for his broadcasts.
Ken Kamen is the President of Mercadien Asset Management and author of Reclaim Your Nest Egg Take Control of Your Financial Future. Ken is considered a "Go-to Guy" on money matters for many of the most prominent media outlets including NJ101.5, Reuters, Fox, CNBC and NBR. Ken's way of demystifying Wall Street for the everyday person has producers regularly contacting him on issues such as the markets, and why people can be their own worst enemies when it comes to managing their wealth.
Source: Mercadien Asset Management
Share: