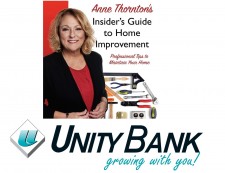 Join us at our Washington Branch at 5 East Asbury Anderson Rd. in Washington, NJ on October 26th for light fare & Anne's presentation on every day, easy-to-follow tips to ensure your home is in tip-top shape.
Washington, NJ, August 22, 2017 (Newswire.com) - Unity Bank is proud to present a discussion and book signing with author Anne Thornton on October 26, 2017. The event is open to the general public and Anne will share tips from her new book, "Anne Thornton's Insider Guide to Home Improvement."
Come learn from Anne as she discusses simple home repairs, and easily avoidable problems that all homeowners can face. She will teach you how to become proactive about your home which will help you to save both time and money!
"Anne consistently demonstrates what makes small businesses great. She has an incredible entrepreneurial spirit and a deep passion for helping her customers and the community. Unity Bank is proud to partner with her and offer this informative program"

Rosemary Fellner, Chief Marketing Officer, Unity Bank.
"I am thrilled to be working with Unity Bank to talk about taking care of your home, literally. There are so many little things that a homeowner can do to prevent home disasters, so I'll be giving tips from my carpenters and plumbers to help everyone manage their home maintenance," says Anne Thornton.
Unity Bank, 5 East Asbury Anderson Road, Washington, NJ
​Thursday, October 26, 2017
5:30 pm Light fare networking
6:15 pm Anne Thornton Shares Insider Tips for Home Improvement​
7:00 pm Question & Answers
Light fare, beer and wine will be served and there is no cost to attend. Sign up by October 20th and receive a free signed copy of the book, courtesy of Unity Bank. Register for the Unity Bank Event NOW!
In over 25 years in business, Anne Thornton has grown her company to a multi-million dollar operation providing building repairs, remodeling and licensed plumbing services to residential and commercial properties through central New Jersey.
Anne is one of NJ's Top 25 Leading Women Entrepreneurs, a SmartCEO Brava Award Recipient, and the recipient of the First Catalyst Award from the Women's Business forum of the Hunterdon County Chamber of Commerce. More About Anne Thornton
Media Contact:​
​Jeanne Murphy
​Jeanne@JeanneMurphyPR.com
908-752-5179
www.JeanneMurphyPR.com
Source: www.MarriahMedia.com
Share: