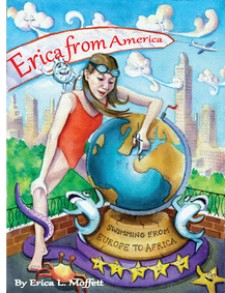 Erica L. Moffett, author of the book "Erica From America ... Swimming from Europe to Africa," inspires kids in Princeton to reach for their dreams
Princeton, NJ, May 23, 2017 (Newswire.com) - Erica L. Moffett, author of the new illustrated children's book, "Erica From America ... Swimming from Europe to Africa," published by Marriah Media last year, visited students of the YWCA Princeton recently on spring break.
Erica visited from Manhattan and read to the children participating in the YWCA Princeton at two of their locations. She then engaged the kids with a discussion about her adventures and answered their questions about the book and her life as an adoptive child.
"From the moment Erica began to speak with the children, she connected with them and them with her. Many of the students identified with her on so many levels."

YWCA Princeton, Tara O'Shea, Director of Programs
In addition to being an author, Erica is an accomplished swimmer. She is being featured in the current issue of Swimmer's Magazine and she is one of only about 142 individuals that has completed the triple crown for open water swimming. Erica an inspiring woman who fascinates children with her story and encourages them to reach for their dreams.
"Having Erica to our program was both inspiring for adults as well as children. Her storytelling was a great activity for the children to learn about adventure and life story. They identified with her story from childhood and her swim. All their questions were answered with enthusiasm, patience, and caring attention," says Clara King, Administative Assistant, YWCA Princeton.
Here's some of the feedback from the kids:
YWCA Princeton after School Program students:
"She is just like me, a swimmer and I am adopted, too." Third-grader from Lawrence
"Ms. Erica is all grown up and still likes to do exercise." Third-grader from Princeton site
"She might come back and share more of her adventures with us." Second-grader from Lawrence site
"She wrote in our books so all the children can read her story." First-grader at Princeton site
"She showed us the pictures as she read." Kindergartner from Princeton site
"I was so excited about spending time with the YWCA kids and remember how much of an impact some of the authors in my youth made on me. To see them engaged and inspired is the most rewarding feeling in the world," says Erica.
If you're interested in having Erica inspire your students or colleagues, contact:
Jeanne Murphy
Jeanne Murphy Public Relations
Jeanne@JeanneMurphyPR.com
908-752-5179
Source: Marriah Media
Share: