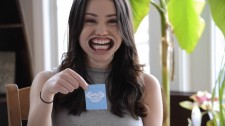 Chicago, Illinois, November 18, 2016 (Newswire.com) - Watch Yo Mouth™, LLC, the original mouthpiece card game is proud to announce their initial debut as an exhibitor at Chicago Toy & Game Fair on November 19 & 20. They will be featuring the 2016 product line. ChiTAG is an important venue for the toy industry, and the largest toy and game fair open to the public.
Trade show attendees will get a hands-on look at the new game​, Watch Yo Mouth™​, which is becoming a social media phenomenon at a record pace. Stop by the Inventor Table to meet the founders, Joe Caiola and Kelsey Abrams and try out this hilarious game. The game is set to be one of the most requested gifts this holiday season!
We are very excited for the opportunity to exhibit Watch Yo Mouth at ChiTAG! The enthusiasm we have received for our game has been overwhelming and we can't wait to share it with the Chicago toy and game community. The most rewarding thing about our game is the laughter and joy that it creates. It's infectious!

Kelsey Abrams, COO, Watch Yo Mouth
About Watch Yo Mouth™
Watch Yo Mouth™ is the original mouthpiece card game founded in early 2016 and is sweeping the internet with worldwide enthusiasm. Watch Yo Mouth™ is committed to philanthropic causes and the company has been featured on numerous TV programs, YouTube channels and social media outlets.
About ChiTAG
The Chicago Toy & Game Fair was founded in 2003. It was the first non-hobby toy and game fair targeting families in North America. The Fair continues to grow each year and has added more playful events over the years including Innovation Conferences serving professional and new inventors as well as company licensors (2006), Toy & Game Innovation Awards (TAGIEs) (2008), Young Inventor Challenge (2006), Blogger and Media Breakfast Event (2009), PlayCHIC Fashion Show (2012) and the Young Tech Challenge (2016).
ChiTAG Group's Chicago Toy and Game Foundation, which was founded in 2011, is a philanthropic foundation supporting various children's organizations.
The ChiTAG Group is a family of initiatives designed to encourage and promote the power of play and joy of invention in social, educational, and professional environments.
Media Contact:
​Jeanne Murphy Public Relations
122 Manners Road
​Ringoes, NJ 08551
Colleen@jeannemurphypr.com
908-752-1179
Source: Watch Yo Mouth
Share: