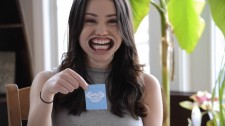 Card Game Startup to Distribute in Showcase Stores Across Canada
Manalapan, NJ, November 17, 2016 (Newswire.com) - Watch Yo Mouth™, LLC, the original company, announces unparalleled sales today with Canadian retailer Showcase to distribute its mouthpiece card game in over 100 retail locations across Canada. The company anticipates steady growth of its already loyal US and Canadian fan base. Customers will now be able to purchase the game in stores without needing to wait for international shipping.
The company has enjoyed international success in 2016, particularly in Canada, the United Kingdom, New Zealand, and Finland in addition to the U.S from which they originated. In order to keep up with demand, Watch Yo Mouth™ is releasing expansion packs aimed at keeping gameplay fresh and fun for players around the world.
We are astounded by the support and interest from the general public both domestically and internationally. We are dedicated to bringing this hilarious opportunity to players around the globe.

Joe Caiola, Founder and CEO
About Watch Yo Mouth™
Watch Yo Mouth™ is the original mouthpiece card game founded in early 2016 and is sweeping the internet with worldwide enthusiasm. Watch Yo Mouth™ is committed to philanthropic causes and the company has been featured on numerous TV programs, Youtube channels and social media outlets.
About Showcase:
Showcase is the Home of the Hottest Trends, and the world's largest retailer of its kind. With 100+ permanent stores in Canada's best shopping centres, Showcase offers the most fun, interactive, new, and unique products ever - all in a retail environment where you can "try it before you buy it." They call it retail-tainment! Founded in 1994 in Edmonton AB, Showcase now is coast-to-coast in every major market across Canada.
Please visit http://www.watchyomouth.com and follow @watchyomouth_game on Instagram.
Media Contact:
​Jeanne Murphy Public Relations
122 Manners Road
​Ringoes, NJ 08551
Colleen@jeannemurphypr.com
908-752-1179
Source: Watch Yo Mouth
Share: