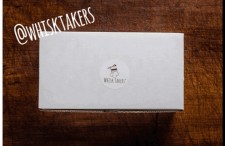 New Jersey Entrepreneur, Dominick Defalco, creates "WhiskTakers" so anyone can make a perfect homemade dessert.
MANALAPAN, N.J., May 31, 2018 (Newswire.com) - Whisktakers has redefined social gatherings by teaching people how to make gourmet desserts from scratch. Anyone can go to the supermarket and buy a bland, sugar-laden disaster of a dessert. But with WhiskTakers, customers can actually put the time in to show one's friends and family how valuable they are. Delivered at one's front door, these baking kits include everything needed to start one's journey into the world of baking. WhiskTakers offers a foundation to build upon. No more suffering the tedious and tiresome one-dimensional desserts of old. Create delicious baked goods for family, friends, and loved ones.
WhiskTakers baking kits provide those brave enough with step-by-step recipes and pre-measured ingredients to help remove the trial and error from baking. No mess, no left-over raw ingredients, and no crowded classrooms; only the unique experience of creating a culinary masterpiece. WhiskTakers baking kits are the perfect gift for any occasion, be it an aspiring baker or the casual foodie. With recipes for ages 10 and up, WhiskTakers baking kits are something the whole family can enjoy. WhiskTakers does the preparing, guests do the sharing!
Dominick was instrumental in the launch of our best-selling viral game and we know that WhiskTakers will be a huge success, because of Dominick's passion behind his product!

Joe Caiola, CEO & Founder at Adapt Product Development
Dom grew up in his grandparents' kitchen, where the recipe was always first and foremost, "We'll help you fake it till you bake it and we'll do the preparing, you do the sharing!" - CEO of WhiskTaker, Dominic DeFalco's mission and motto.
About Head Baker, Dominick DeFalco: Dom DeFalco is a 30-year-old entrepreneur who has successfully worked with multiple thriving businesses. He is a former touring Comedian who has charmed audiences up and down the West Coast. Throughout all the changes in Dom's life, the one constant has been his love for sharing food. No matter where life has taken him the kitchen has always been home and sharing his recipes make everyone else feel at home too. Dom invites others to sit at his table and join his family.
Follow Whisktakers on Instagram
Media Contact:
Colleen Kelly
Jeanne Murphy Public Relations
Colleen@jeannemurphypr.com
908-752-1179
Source: Whisktakers
Share: