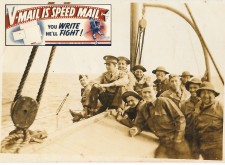 Author Maureen Broglia, a long-standing Ridgewood resident will be on-hand to sign her new book filled with WWII memorabilia and stories about her father.
RIDGEWOOD, N.J., May 31, 2018 (Newswire.com) - On Wednesday, June 6, America will remember D-Day and all the soldiers who fought so bravely in world wars to preserve peace. One of those soldiers was Robert Bell, the father and grandfather of long-time Ridgewood resident Maureen Bell Broglia and her daughters Kerry Broglia Lane, son-in-law Chris Lane, Shane Broglia and Ryan Broglia. Granddaughters Madeleine and Mary Lane were also born and raised in Ridgewood.
On Wednesday evening, June 6, a reception and book signing will be held at Bookends, 211 East Ridgewood Ave in Ridgewood. "Somewhere in Italy: V-Mails from My Father" will be available to the public. Maureen and her family will be there to greet friends and their guests.
We are so excited to promote Maureen's book, which is out just in time for father's day and is perfect for anyone whose father or grandfather may have served in World War II and anyone who enjoys US History. The book is filled with wonderful photographs and memorabilia!

Colleen Kelly, CEO, Marriah Publishing
About the Author: Maureen Bell Broglia lives in Ridgewood, NJ, the mother of three daughters, three granddaughters and one grandson.
She was born in Providence, RI, on the eve of the historic Day of Infamy - the bombing of Pearl Harbor. Her father fought in WWII in the Italian Campaign. He loved Italy and the warmth and hospitality of the people who welcomed the American soldiers into their country. His infantry - The Fifth - marched through the entire country "the boot" from Salerno, Anzio, Naples, and Rome to Florence and Milan crossing the Apennines into the Po Valley to eventual victory in May of 1945. The V-Mails, photographs, and other memorabilia which he brought home from North Africa and Italy have deeply impacted her life.
Maureen's background includes the Federal Government in Washington DC during the first Nixon Administration where she held positions in the Department of Justice, Office of the Deputy Attorney General, and The Environmental Protection Agency, reporting on congressional hearings to the first Director of the Agency.
Her claim to fame is that her boss at the Justice Department was John W. Dean III (She recently went to his latest book signing in NYC). Following her assignments with the Justice Department and EPA, she moved into the position of Staff Writer and Congressional Liaison for the U.S. Treasury Department, documenting and covering all relevant hearings for the Bureau of Customs.
In the late 70's she relocated to NJ. Shortly thereafter she was hired by Johnson & Johnson's corporate headquarters as a public affairs executive. During a maternity leave from J&J, she was appointed Finance Director of Tom Kean's second term for Governor campaign. She served in Governor Kean's administrations as a legislative liaison.
After her experiences with the private and public sectors in the 90's, she was introduced to New Community, a non-profit organization located in the Central Ward of Newark.
As executive director of the New Community Foundation, she was instrumental in creating programs and raising funds through major events and grants to serve the needs of the disadvantaged of the Central Ward.
Through a grant awarded to New Community, Maureen and representatives of New Community's K through 8 schools were invited to join a European partnership with K-8 schools in Hungary, Poland and the Czech and Slovak republics under the leadership of WHO - The World Health Organization. Through this transatlantic partnership, Maureen was invited as a delegate to WHO's fourth annual conference in Jakarta, Indonesia. The conference was attended by health ministers and officials throughout the world.
The event of a lifetime.
As Maureen watched the recent royal wedding, she realized how much she missed the excitement of traveling to London and other major European cities during her exciting career.
"Her book took me to Italy with my brother and his wife four years ago. She's planning to return to write another book!"
Bookends is a legendary New Jersey Landmark. They are known for their incredible author events and have hosted well over 1,000 authors in the past 15 years.
Marriah Publishing has been involved with the Book Publishing Industry for over 25 years and have seen the industry change and grow. They are dedicated to giving authors the most opportunities to sell books.
Source: Marriah Publishing
Share: