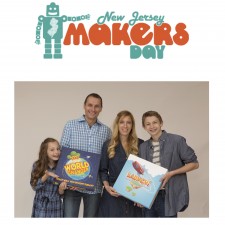 Meet Dynamic Duo's Joey and Heidi Hudicka of Productive Play at the Piscataway Public Library.
Piscataway, NJ, March 21, 2017 (Newswire.com) - Productive Play's two innovators, brother and sister, Joey and Heidi Hudicka of Hunterdon County, will be sharing their sought after projects and business insights at the NJ Makers Day exhibition at the Piscataway Public Library on Saturday 3/25.
NJ Makers Day, now in its third year, is a grass-roots statewide initiative designed to celebrate and showcase STEM (science, technology, engineering and math), making, tinkering, entrepreneurship and innovative play. More than 300 schools, libraries, colleges, makerspaces, afterschool programs, across all 21 NJ counties, will be hosting activities, programs, demonstrations and more in their communities on Friday 3/24 and Saturday 3/25.
"We are extremely excited to have Joey and Heidi joining us this year for our NJ Makers Day event here at the Piscataway Public Library as one of our featured exhibitors. Their inspiring story embodies the values and ethos inherent in both making and entrepreneurship we want to highlight during our event. I know they will inspire our visitors in thinking about what is possible when working toward making your ideas become reality."

Doug Baldwin, Emerging Technologies Librarian Piscataway Public Library
Joey began his entrepreneurial career when he was 5 years old. By age 9, Joey created two mobile apps and achieved sales and downloads in more than 60 countries. He has been featured in Inc. Magazine, Entrepreneur Magazine, Fast Company, and Parents Magazine and he's only 15 today! "We are so honored to be one of 12 exhibitors at the Piscataway Library for NJ Makers Day 2017. We're hoping that we can truly inspire others and make a difference in the world," says Joey.
Heidi began her entrepreneurial career when she was just 4 years old, designing her own fashion clothing line for her 18" dolls. By 5 years old, Heidi wrote her first book. Today Heidi is Productive Play's Chief Fun Officer, combining her love of fashion with her love of play, to make sure everything they create is fun! "I wanted to show kids and adults that you can really make a difference, if you just try." says Heidi Hudicka. Heidi leveraged her innovative learning within Productive Play to launch Universe Matters, a business whose mission is to promote sustainability, focusing on protecting our pollinators.
"Its a great way to bring communities and visitors of all ages together statewide to learn, play and explore together," says Doug Baldwin, Emerging Technologies Librarian of the Piscataway Public Library.
About Productive Play: The Productive Play Team wants to call out to families and educators that want to help the young people in their lives develop their innovation skills early, and discover the impact their very own ideas can make in life. Launch! Party innovative, entrepreneurial fun and learning events teach young people the four vital skills world changers have in common: how to celebrate their creativity, strengthen their confidence, optimize their communication and maximize collaboration. Click here to order your very own copy of Launch! or to begin planning a Launch! Party Entrepreneurial fun and learning event in your community!
About NJ Makers Day: New Jersey Makers Day began in 2015 to enhance community engagement and develop connections among New Jersey residents by collaborating with multi-type libraries, museums, small businesses and others to promote and explore new opportunities for entrepreneurship, innovation and hands-on learning experiences. In 2016, New Jersey Makers Day was expanded to be a two-day event, which allowed sites not able to host events during the weekend (like schools, colleges and universities, manufacturers, local businesses, etc.) to still be able to provide programs, demonstrations and other events for their communities.
Media Contact:
Jeanne Murphy,
Jeanne@JeanneMurphyPR.com
www.JeanneMurphyPR.com
Source: Marriah Media on Behalf of Productive Play
Share: